What is Kokum fruit? Health Benefits of Using Kokum
Garcinia indica, also known as Kokam, is a rich anti-oxidant and a widely consumed Summer drink. It is also known as Vrikshamla in Ayurveda, the Kokum plant is found in Western Ghats of India.  This plant in the mangosteen family, commonly known as kokum, is a fruit-bearing tree that has culinary, pharmaceutical, and industrial uses.
This quick-growing plant has fruits that are small and red in colour and are sized between a plum and a cherry tomato.The outer covering of this fruit is dried in the sun and then peeled off. The dried skin is then crushed into a sour and tasty spice. This spice finds an integral place in many Indian curries. This fruit can be consumed directly and is known to offers multiple benefits.
The fruit is sour with a sweet aroma and is used as a spice. When added to food it gives a purplish color. It is also used as a preferred substitute for tamarind in curries and other dishes. Apart from being used for cooking and as medicine, they are widely used to make summer Kokum drink as well.  
What are the health benefits of Kokum or Garcinia indica plant?
Lots of nutrients
Kokum is a powerhouse of essential nutrients and vitamins in the body.  It has a healthy mixture of B-Vitamins and contains ascorbic acid, manganese, potassium, dietary fibre and garcinol. It contains malic acid, citric acid and carbs. Health benefits of kokum are great for pregnancy and the developing baby.
Kokum for Reducing weight
One of the most widely googled uses for kokum is for weight loss. So how does this kokum fruit and in weight loss and does it actually work?
Kokum comes with a range of health benefits. The presence of vitamin C in it can help boost immunity; the garcinol it contains has antioxidant, anti-inflammatory, and anti-allergenic properties. The main that the has made kokum so popular for weight loss is the presence of hydroxyl citric acid (HCA) in it, which will shrink the appetite of anyone consuming it and reduces fat in the body, this helps you lose weight in the healthiest way possible. Kokum can be helpful for people suffering from digestion issues. Conditions like dysentery and constipation can be effectively dealt with by having kokum.
 Kokum fruit has anti-inflammatory properties
Health benefits of kokum also include some amazing anti-inflammatory properties. The fruit can be used for the treatment of sores or can be used directly for dealing with allergies, rashes and burns.
Its full of antioxidants 
The Garcinol in Kokum boost the immunity in the body. Its rich in anthocyanins, a class of flavonoids that help mitigate free radical damage. The garcinol is also good for your skin.
Kokum For The Heart
Kokum is known to fight cholesterol and strengthens the cardio-vascular system. It is low in calories and is rich in dietary fibre. It controls the blood pressure and heart rate and thus protects the heart from coronary diseases.
Use It For Hair and Skin
Kokum can be directly applied all over your face and body like a moisturizer. Cracked heels and lips can be easily cured by it. Also kokum is used to nourish hair from the roots which makes hair shiny, soft, smooth and easily manageable.
It Helps Improve Digestion
The extracts of Kokum improves the health of our digestive system to a large extent. Digestive problems such as constipation, flatulence, excessive bloating and indigestion or dyspepsia, irritable bowel moments etc. can be treated by having Kokum juice.
It regulates blood sugar levels
Consuming kokum juice is said to help reduce the rate of oxidation as well as improve metabolism. This in turn can help counter the ill-effects of diabetes.
Healthy and Refreshing drink
Kokum juice is very popular in India especially during hot summer. It is delicious and has a cooling and refreshing effect on the body. It not only quenches your thirst, but also helps to prevent dehydration and sunstroke due to heat. 
How To Make This Refreshing Kokum Drink At Home
Here's an easy recipe to make kokum drink from dry kokums at home –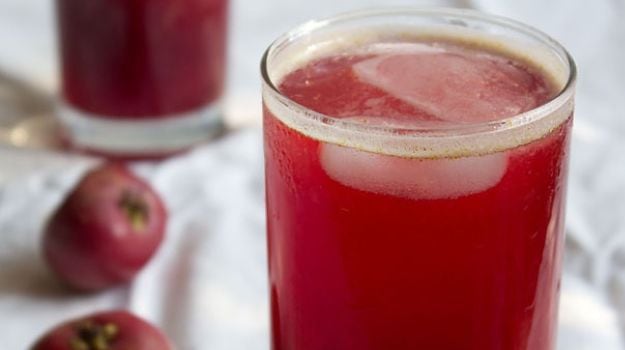 Kokum is sweet in taste, but acidic in nature
Ingredients:
Dry kokum
Water
Sugar
Roasted cumin powder
Black salt
Salt to taste
Method:
Soak the dry kokum in water for at least one hour.
Mash it and strain the water out.
Add the remaining kokum in a pan along with sugar, roasted cumin powder, black salt and regular salt.
Cook on low heat for about five to six minutes.
Add  kokum water in the pan and bring the mixture to a boil.
Remove the pan let the mixture cool down.
Strain the mixture once its cooled down. Make sure all of the juice has been strained out.
Now, store the mixture in a glass container and let it cool in the refrigerator.
Use this mixture to make your kokum drink by adding chilled water and ice to get relief from the heat.
What's all the waiting for? Go on and make this sweet and sour wonder drink at home!